About RJ Schinner
"We are a privately held, family owned and operated, American company that is committed to our partners' success."
RJ Schinner has been in business for sixty-five years. Our headquarters are located in Menomonee Falls, WI. According to the late RJ Schinner Sr., founder of RJ Schinner Co., "There was a void that had to be filled, a place where wholesale distributors could go to get supplies without dealing with minimum truck load quantities and extended mill deliveries.  I started this company to meet the immediate needs of wholesale paper distributors and to serve them on a consistently reliable basis."
That was our purpose in 1951 and remains our purpose today.  Our customer base has changed over the last 65 years, but our customer policy has not.  It was then, and is now, to consistently provide the highest quality product at competitive prices.
RJ Schinner's dynamic management, strong customer relationships and supportive customer service team, united with dedicated warehouse staff are what makes us unique.  We consistently deliver high quality products that are priced competitively when our customers need them!
Being an RDA Advantage member has provided a national platform in which to market our company and products.
Coverage Area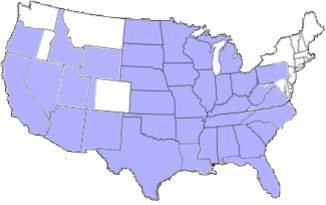 Headquarters
N89 W14700 Patrita Drive
Menomonee Falls, WI  53051
Phone:  262.797.7180
Fax: 262.901.1921
Product Categories:
Jan/San
Foodservice
Office Supplies
Grocery
Coverage:
37 states, Central US